Rapid production of high quality tubular and box section components.
Gratnells Engineering aims to be different. Not only do we provide a high volume tube laser cutting service, we specialise in short run, quick turnaround projects. This is particularly suitable for bespoke automotive and point-of-sale components where the minimum quantities can start at one.
Tube laser cutting offers a quick route to a precise finish, eliminating conventional, time-consuming stages such as marking out, sawing and finishing whilst delivering significant cost savings.
If you can design it we can make it.
What can we do for you?
Quoting for 'laser cutting only' jobs within a day.

We can turn around tube laser cutting jobs quickly, usually within 3-5 days from receipt of order

We can offer lasered holes and parts with greater accuracy and speed

With our sophisticated software, we can process your parts from a variety of media, including 3D models, xt files and solid works

We also offer a powder coating service you can learn more about this here
Fast turnaround
We can turnaround laser tube cutting jobs within 3-5 days from receipt of order
Precision cutting
With two state of the art laser machines we are capable of cutting even the most precise of designs
Fast quoting
We aim to have a quote to you within a day for laser cutting only jobs
At Gratnells Engineering we believe that quality and customer service are every bit as important as price and lead time.
For service and attention to detail that you won't find elsewhere, email your tube lasering needs to us today for a speedy quote: [email protected] or tel: 01279 401550
Some examples of our work
BLM LT FIBER & LT5 MACHINES
IF YOU CAN DESIGN IT WE CAN MAKE IT
SHORT RUN AND BATCH PRODUCTION
| | |
| --- | --- |
| Round tube | diameter min. 12mm – max. 120mm |
| Square tube | min. 12 x 12mm – max. 100 x 100mm |
| Rectangular, flat oval, semi flat oval tubes | min. 10 x 12mm – max. 120 x 70mm  |
The LT5 is equipped with:
Automated unloading and support system for precut lengths up to 6100 mm

The unloader separates, collects and palletises the finished parts

For applications where stainless tube is involved (food industry, furnishings, exhaust pipes, catalytic pots) the cutter is equipped with a module (the spoon) that maintains the cleanliness of the internal tube surface whilst machining

Automatic weld seam detection

High speed processing

A 1 kW laser source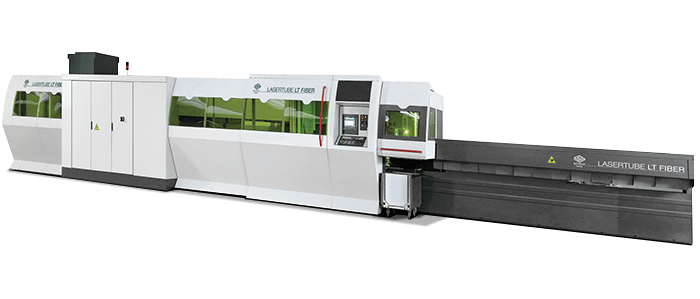 | | |
| --- | --- |
| Round tube | diameter min. 12mm – max. 140mm |
| Square tube | min. 12 x 12mm – max. 120 x 120mm |
| Rectangular, flat oval, D-shaped, elliptical  tube | min. 12 x 10mm – max. 140 x 100mm  |
The LT FIBER is equipped with:
The right grip for every tube, meaning we can handle tubes of any weight without deforming the walls.

The machine manages changeovers automatically: loading, handling and unloading are automatically adjusted from one job to the next

Programmable unloading to various position meaning we do not need to manually separate parts from different orders.

A 2 kW laser source
If you would like more information on any of our engineering services or a quote please call us on 01279 401550, send us a message here or email [email protected]